I was asked to review a great kids clothing line and was excited to receive some adorable clothes for my two youngest children and my lovely niece.
We arent the only ones talking about this great brand!
Nohi Kids
was featured in babytalk magazine!
The clothes I received were not only cute, but you could tell just by the touch that they were great quality. My 2 and a half year old son has now worn the shirt at least a dozen times and it has ZERO signs of wear.
Nohi Kids
clothes may cost a little more than Walmart or Target, but the quality is so much better I can see these lasting through many children! This is great since I have FOUR boys that *love* hand-me-downs.
My son is 2.5 years old, a bit taller than average and this is a size 3 shirt. This is his normal size of clothing and I would say it fits perfectly.
I can't share a decent action picture of my youngest in his onesie, as size 12-18 months (that I requested) was far to big. I would say these clothes
fit true to size
, or slightly larger.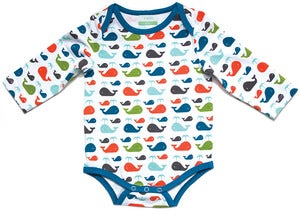 I also received an outfit intended for my niece but I asked for size 2, which I received, but overestimated my niece's size. This is a friends little girl who will wear the outfit (beautifully) before passing it on to my niece for next year. I know these clothes will hold up, because their quality is impeccable.
For our fans, Nohi Kids has offered 25% off with the coupon code: "bundle25". Enter it at checkout.
a Rafflecopter giveaway